We make bespoke furniture in leather, cowhide, wood and metal for individual and commercial customers across the country. From our own workshop we are able to upholster, manufacture and paint every item we make, and fit on-site where required.
LEATHER HANDRAILS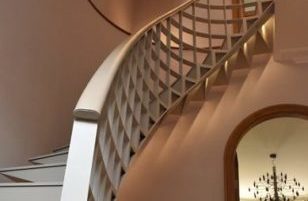 "Working with Hide and Stitch is how all relationships with contractors should be! – they exceed expectations again and again. We wouldn't use anyone else."
N. Ford. Pipsqueak Developments
COWHIDE FURNITURE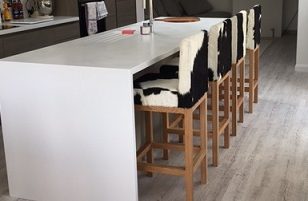 Cowhide Kitchen Stools: "… beautifully made and I'm absolutely thrilled with them! Thank you so much! "
J. Barnes, Cheltenham
BESPOKE SEATING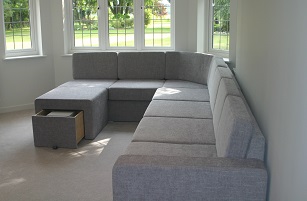 "I'm delighted with my fabulous new corner sofa!"
R Mann, Cambridge
ABOUT HIDE AND STITCH
We are a Cambridge-based company with over 25 years experience in the interiors industry. We work with individuals and industry professionals to manufacture their ideas for amazing pieces of furniture.
All our work is completed in-house or fitted on-site, and our workshop is fully equipped to handle the needs of our discerning customers. So whether it's leatherwork, upholstery, woodwork, metalwork or paint finishes, our aim is to surpass your expectations.
Call David or Hazel today on 01223 233437.